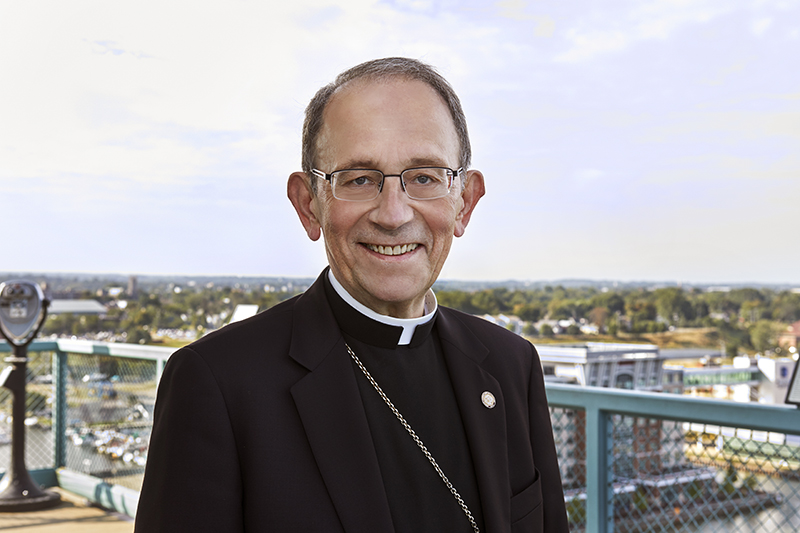 My Dear Brothers and Sisters,

I hope this letter finds all of you well. I am writing you to bring you the news that on the weekend of June 13th and 14th, The Solemnity of the Most Holy Body and Blood of Christ (Corpus Christi), public Masses will resume in our parishes of St. Mark the Evangelist and Mt. Calvary. You may be asking yourselves why we didn't start on June 1st, the date the Bishop gave for the earliest reopening. That is a good and easy question to answer. I did not feel that our churches were ready to do so. There were a lot of procedures to put into place to make sure that we would keep our parishioners safe during this time. As much as I long to see all of you back celebrating the sacraments together, I wanted to make sure that all my flock is safe, as any good shepherd would.
When we do come back together for the celebration of Mass, things will look a little different and there will be new protocols in place. I ask for your support and understanding as all of us get used to these new norms. Before I go into the details, I would like to remind everyone that the obligation to attend Mass is still suspended by Bishop Persico. That means that if you are vulnerable to sickness or do not feel comfortable being in crowds yet, you are not under the obligation to attend Mass.
When you arrive for Mass, you will be directed by a minister each step of the way. If you do not already have a mask on, you will be instructed to put it on before lining up to enter the church. You are asked to keep your mask on for the entirety of the Mass. If you cannot wear a mask for medical reasons, please let the ministers know. If you do not have a mask or refuse to put one on, you will be asked to leave. Everyone will enter through one set of doors. For St. Mark the Evangelist that will be the doors facing Smithson Ave., and for Mt. Calvary, the doors facing East Lake Road. There will also be tape on the sidewalks marking off a 6-foot distance.
A minister will prop open the doors so no one will need to touch them. That minister will then greet and take you to a minister by a hand sanitizer station who, after you sanitize your hands, will usher you to your seat. Please wait for this minister to seat you and do not try to take your own seat. Many of our pews are taped off to keep a distance between people. Your "usual" seat may not be available but that is ok! Sometimes it's good to get a new perspective from a different pew. Those who cannot wear a mask and overflow will be seated in the social hall.
When the time comes for communion, you will be released from your pew by a minister. We can only have one pew come up for communion at a time. If you do not feel comfortable receiving communion currently, please do not stay in the pew or in the aisle. That will only disturb the flow and put others in harm's way. Instead, please come through the communion line and you can either leave the line once you get the front or place your arms across your chest, so I know you just want a blessing. Here, again, you will find tape on the floors indicating the proper distance for the communion line. This is the same practice you may have seen in grocery stores. Once you reach the front of the communion line, before you receive communion you are asked to sanitize your hands. Once you receive communion you are asked to step to the side and move your mask and consume the host. Once you have done this you are then to put your mask in place and return to your pew. Please do not linger at the foot of the sanctuary; the next person cannot approach the communion minister until you have left.
Once Mass has concluded, ministers will release you from your pews. Again, please wait to be released from the pew. Do not take it upon yourself to just leave. The exits you are to use are different from the one through which you entered. Please do not use that door to exit…it is for entrance only. At St. Mark the Evangelist main body of the church you are to exit the side door by the restroom. In the social hall it is the door leading to Smithson Ave. At Mt. Calvary the two side doors by the parking lot and Eagle Point Blvd. are the exit doors. A minister will be by these doors to prop them open again so you do not have to touch them and will be handing out bulletins. There will also be baskets by the exits that you can place your offertory envelope in if you would like.
Once you leave the church please go straight to your cars, do not congregate on the sidewalks or in the parking lot. I know this may be tough and you might want to talk to some people who you haven't seen in a while, but I need you to go right to your cars.
As to daily Masses, they will begin on Wed June 17th, 8am at St. Mark the Evangelist in the main body of the church and 12:05 at Mt. Calvary. The protocol for the daily Masses is pretty much the same, however we will not have the ministers there to guide you. Both churches will be closed on Mondays during this time to allow for a thorough cleaning.
Just a couple other comments. There will be envelopes by the devotional candles at St. Mark for anyone who wishes to light a candle. Just place the money and your intention in the envelope and place it in the basket by the exits and I will light the candle and pray for your intention.
Also, during this time it is the recommendation of the bishop and the Office of Worship that there be no music or singing during the Mass so for now there will be no hymnals in any of the pews.
Again, I ask for your cooperation and patience during this time as we move forward in uncharted territory with these new protocols and procedures. If we follow the new protocols and work together, we will get through this with God's help. If you have any questions, please do not hesitate to email me or our Pandemic Safety Officer Maripat Grant at the office and either of us will get back to you as soon as we can.

If you know of anyone from the parish who may not be getting either our mailings or emails, please have them call the office so that we can get their information. If anyone's status in the parish has changed i.e. you have left the parish and are attending a different one, again please let us know. In the months ahead I plan on doing a parish wide census of both St. Mark the Evangelist and Mt. Calvary.
As always, please know that I pray for each and every one of you daily and I ask for your prayers as well.
Yours in Christ,
Fr. Tom Trocchio
Mass Times
Mount Calvary
Sunday 8:45am and 6:00pm. Daily Masses 12:10pm Wed - Friday
Saint Mark
Saturday 4:30pm, Sunday 10:30am*. Daily Masses 8:00am Wed - Fri in the main church.
Both churches are closed Monday and Tuesday for cleaning.
* The 10:30 am Sunday Liturgy will be live-streamed on both parishes' Facebook Pages.
Sacrament of Reconciliation by appointment only at this time.